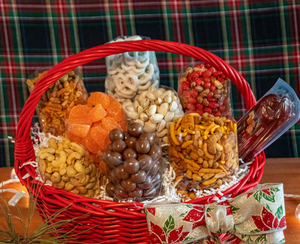 The Bounty Basket
One of Mountain Man's finest! This beautiful basket includes: 
Malted Milk Balls, Yogurt Pretzels, Sweet Explosion, Santa Fe Sizzle, Triple Crown, Jumbo Cashews, Orange Slices, Mountain Man Summer Sausage, and In-shell Pistachios. Substitutions may apply
Shop Now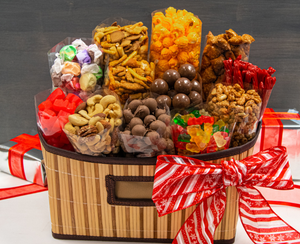 The Twelve Taste
Mountain Man's largest basket is filled with a variety of delicious offerings! This basket is packed full withSanta Fe Sizzle, Mountain Man Red Twists, Malted Milk Balls, Gummy Bears, Canyon Crunch, Salt water Taffy, Chocolate Covered Peanuts, Peanut Butter Pretzels, Toffee Toasted Peanuts, Cinnamon Bears, Cheese Corn, and Fancy Mixed Nuts. Net weight is 11 pounds 5 ounces.
Shop Now