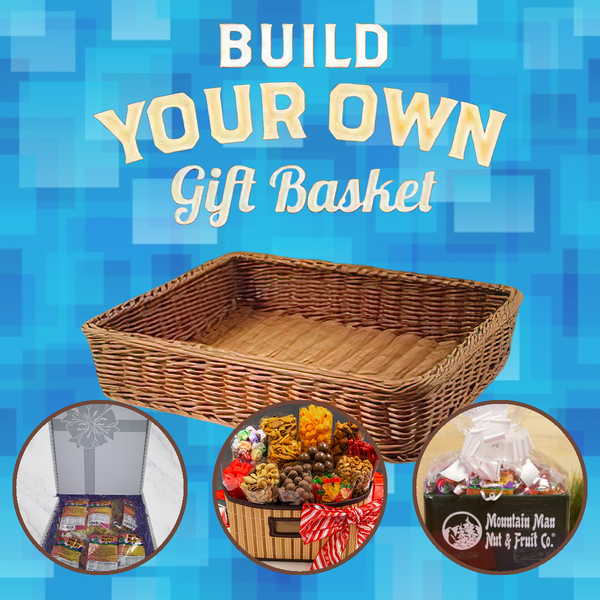 Build Your Own Custom Gift Basket
Custom gift baskets are the perfect present for anyone! Simply select the basket size, the shred and bow colors, and their favorite treats. We'll even include a personalized enclosure card with your special message to complete the gift-giving experience!
NOTE: Please be aware that custom baskets may take up to 2 extra days to ship, especially during the holidays.
Naked Basket
Holds 3-8 bags of product
Gift Box with product nestled in colorful shred

Bow NOT included with Naked basket

 

as it would just get squished. As such, please select NO Bow when customizing your Naked basket.
Small, Medium, Large Baskets
Small holds 3-5 bags of product

Medium holds 5-8 bags of product
Large holds 8-12 bags of product
Wicker basket with product nestled in colorful shred
Entire basket wrapped in clear bag or cello, tied with beautiful bow
Canvas Basket
Reusable canvas bag holds 6+ bags of product
Canvas "basket" edged with colorful shred for nestled look
Entire "basket" wrapped in clear bag or cello, tied with beautiful bow
Make a lasting impression with an unforgettable gift! Enjoy the convenience of one-stop shopping, creating a personalized gift to show your appreciation for any occasion.
Gluten Free Items
We tag certain items as gluten free because they have no gluten in them however:
**Allergy Info: Item is packaged in a facility that processes Peanuts, Treenuts (Including Cashews, Almonds, Hazelnuts), Milk, Soy, Egg, and Wheat.
We clean and wash our packaging lines thoroughly in between each product run and we also test for allergens in between each product switch. 
Heat Sensitive Items